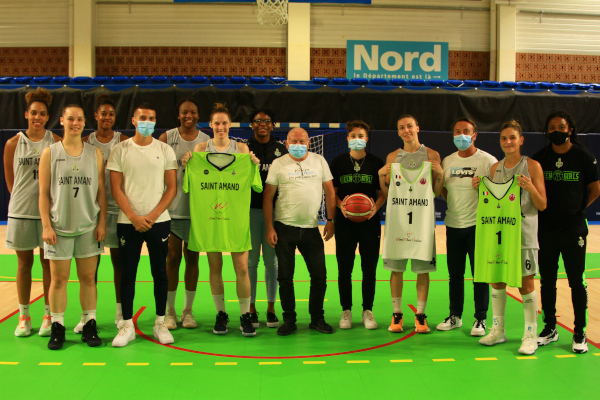 In September 2020, Wood Floor Partners had the great honor to give their jerseys to the players of the professional women's team of Saint Amand Hainaut Basket that we sponsor in view of the European Cup.
This handing-over took place in the presence of the players of the team, of Mr. Ludovic Cloez, president of Wood Floor Partners; of Mr. Stanny Vandecaveye, general manager; as well as Mathis Cloez, expert installer.
The club has been present on our territory since 2009 and the team has been playing in the Women's Basketball League (LFB) since 2010. Thanks to its training center which welcomes players from 15 to 20 years old, the club has access to a very promising young talent pool!
Wood Floor Partners being located in Saint Amand, it was important for us to support the actors who allow the influence of our city on the whole French territory, and even European. Moreover, our business and our expertise in the installation of sports flooring for basketball courts links us very strongly to this sport.
We wish the players good luck for their first qualification game for the European Cup, which will be played behind closed doors and at home on Tuesday, December 16 at 6 pm. They will face the players of BC Winterthur who will come from Switzerland especially for the occasion.